by John Fabel

|

Last Updated:

September 20, 2022

With over a quarter-million residents potentially on the road at any given time, driving in Lubbock can be challenging. In Texas's eleventh-largest city, driving can sometimes get as spicy as the salsa at 50th Street Caboose.

Lubbock can be a dangerous place to drive, both physically and fiscally. Lubbock averages nearly 6,700 collisions annually, with nearly a third resulting in injuries or fatalities.  

Since most accidents are caused by a failure to control speed, law enforcement does its best to slow this trend by writing tickets. In the U.S., 100,000 speeding tickets are written every day, and, no doubt, Lubbock drivers get their fair share. At an average cost of $150 a ticket, the nation's speeders pay out nearly $5.5 billion dollars in fines, and each of them faces a 22-25% increase in their car insurance premiums for the next three years.

All of these costs could be drastically reduced with better driving by all. Lubbock drivers can bring these numbers down by taking defensive driving (also known in Texas as a "driver safety course"). Tips and reminders of how to navigate the roads safely are the main topics of any driving course. The stated purpose of a TDLR-approved course is to teach drivers to "change their perceptions, attitudes, and skills to make Texas roads and highways a safer place to drive." Other benefits of taking a defensive driving course include ticket dismissal and insurance savings, all at a reasonable cost.

[wptb id="3003" not found ]
The Easiest Way to Take Defensive Driving in Lubbock? Do it Online
With the hectic pace of life, the easiest way to complete a course is to take it online. The ability to work at your own pace from your own place makes it the most convenient way, too. Any of the schools listed below offer courses approved for ticket dismissal and/or insurance discount. And you can choose any of them with confidence as they are fully certified by the Texas Department of Licensing and Regulation (TDLR).
Lubbock's Best TDLR-Approved Online Defensive Driving Providers
| | | | | |
| --- | --- | --- | --- | --- |
| | | | | |
| | | | | |
| | | | | |
| | | | | |
| | | | | |
| | | | | |
Online Not for You?
We understand that learning online is not everybody's preference. If you prefer to "get your learnin' live," you can still get out and take defensive driving in a classroom.
Depending on the school, classroom defensive driving has always been fun; being in the presence of humans again might even make it more so. Now I'm not gonna lie; classroom defensive driving in Lubbock is hard to find anymore. But, here's a school where you can still make that happen.
E.Z. Defensive Driving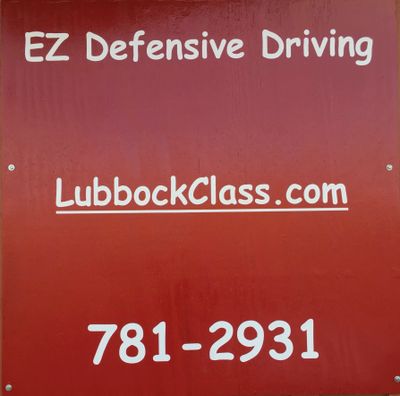 E.Z. Defensive Driving offers classes every Saturday at River Smith's. According to their website, the class price includes a free buffet, free help with paperwork, free notary services, and even a free pen!
406 Ave Q, Lubbock, Texas 79401 or call 806-781-2931 for reservations
In the bygone B.C. (before Covid) days, schools like Comedy Guys, Funny Bone, and My Improv were famous for their defensive driving classes that were more or less dinner and a show. Hopefully, they'll be back soon.
If You Have Received a Ticket in Lubbock
Defensive driving courses can be used to improve driving skills and earn insurance discounts, but the benefit most people look for is ticket dismissal.
The first step to taking defensive driving is receiving permission to do so. The Lubbock process for asking "pretty please" is outlined here.
Dismissal for most citations is possible unless the ticket was written:
For speeding 25 miles per hour (or more) over the posted limit
Passing a stopped school bus
In a posted construction zone while workers are present
Leaving the scene of an accident
Fleeing police
Ticket dismissal is also not possible if you hold a Commercial Drivers License (CDL) or if you have dismissed a ticket with defensive driving in the past 12 months.
Driving in Lubbock
If you regularly drive in Lubbock, you are one of the lucky ones. In support of the off-mentioned Lubbock phrase you can get anywhere in 15 minutes, this assertion has recently been proven true. According to a recent survey in the Lubbock Avalanche-Journal, Lubbock has the shortest commute time in the nation. You can get anywhere in Lubbock and back in just over half an hour.
More Cool Stuff About Lubbock
Whether you live in Lubbock or are planning a visit, there's lots to see and do.
Visit the Buddy Holly Center—Lubbock is proud to call itself the birthplace of the rock and roll legend Buddy Holly. The center is easy to spot with its oversized sculpture of Holly's signature black-rimmed spectacles out front. Exhibits include examples of the legend's childhood homework, instruments, photographs, and clothing.
Take a driving tour of the Texas Tech campus—One of the most beautiful college settings in the country, filled with well-maintained gardens and a sculpture garden featuring 100+ pieces.
Get a taste of "West Texas Wine Country"—With samplings and tours, favorite wineries include Llano Estacado Winery and McPherson Cellars. To kill two birds with one stone, visit La Diosa Cellars, where you can not only sample a wide variety of wines but also accompany them with some outstanding Spanish-style tapas.
Get a feel of the "Wild West"—At the National Ranching Heritage Center, you'll see 48 authentic ranching structures spread over 16 acres. Inside you'll find hundreds of artifacts and art pieces housed, telling the story of the area's history. 
Whatever you decide to see, be careful driving to get there. Although you can get anywhere quickly, Texas's eleventh largest city can still pose some traffic challenges. So consider taking a defensive driving course to make sure you get to your wherever safely.
No Matter Your Plans
Be careful driving to get there, whatever you decide to see or do in Lubbock. Without question, the driving environment here can pose some real traffic challenges. Consider taking a defensive driving course to make sure you get to your "whatever" safely.

[wptb id="3003" not found ]
John Fabel
I have a long and checkered history with defensive driving. I took my first "court invited" course at age 15 and realized immediately that there had to be a better way. Since that first experience, I have gone on to teach defensive driving classroom courses and to author four internet courses in 2 states. After nearly 25 years in the industry, I can help you find a course that will be the best fit for you.