by John Fabel
|
Last Updated:
November 20, 2023
If you need to take a defensive driving course, you may not be looking forward to it very much. You know you'll enjoy the benefits of the class, but it will be like taking medicine, especially if a final exam is involved. However, if you've never taken defensive driving (or it's been a while since you have), you may be wondering—is there a defensive driving course with no final exam?
Good news! Many Texas defensive driving course providers offer defensive driving with no final exam. By law, student progress can be measured in two ways: by a comprehensive final examination or by quizzes administered at the end of each unit of instruction. Understanding the differences between these two evaluation methods can help you decide which course to choose.
Answers in this post:
VIDEO: Is There Defensive Driving with No Final Exam?
Why Do You Have to Take Tests to Pass Defensive Driving?
When the court allows you to take defensive driving, it's not a penalty designed to "teach you a lesson." The court hopes that the course will offer enough refreshers that your driving habits will improve. The goal of Texas defensive driving is found in the closing of "A Message to Texas Drivers," a mandatory element of all driver safety courses—
"By working together to change our way of thinking, attitudes, and skills, we can make Texas roads and highways a safer place to drive."
The state is dedicated to the idea of you learning something, and tests are the simplest way to determine if you have.
Is Defensive Driving Hard with a Final Exam?
When faced with a defensive driving test, some people mistakenly feel the same kind of pressure they did when they faced their driving test. If that describes you, I can totally sympathize. Due to an injury I recently sustained, my doctor encouraged me to submit to a driving test, and it did not go the way I had planned!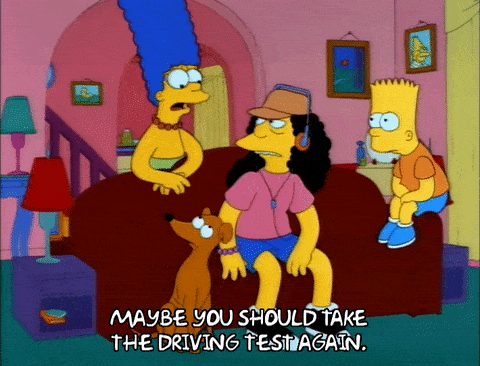 Fortunately, a defensive driving test is far easier than a driving test. The main reason for this is that by the time you take defensive driving, you have already been a driver. This means it ain't your first rodeo. You got this.
A course with a final exam is not necessarily harder than one without. This is especially true if you are completing the course in person or plan to knock it out in one sitting online. In fact, just focusing on defensive driving for six straight hours is what is hard.
Still, course providers who feature a final exam aren't doing themselves any favors. Check out this "sales pitch" from one provider.
The final exam is 50 multiple-choice questions, and you will need to achieve a passing score of 80% or higher. You get unlimited retakes on the exam if you do not pass on your first try—so you're guaranteed to pass the course!
Doesn't feel like much consolation, does it? If the big spoonful of cod liver oil doesn't take care of your problem the first time, you can choke down as many as you need!
Defensive Driving with No Final Exam
As I mentioned earlier, the state also allows defensive driving providers to evaluate student mastery through the use of unit quizzes. Choosing a course that uses this evaluation method is a two-edged sword. On the one hand, you will be answering more questions overall. On the other, you will be providing your answers more frequently while the information is still fresh on your mind. This should offer some peace of mind, especially if you plan to complete your course over several days.
So, Which Should You Choose?
It is important to remember that taking a defensive driving course is not like taking a course in advanced mathematics or an obscure foreign language. It is a review of information with which you are already familiar. After all, your ticket was not the result of your being ignorant of the law you broke, you just got careless, and a cop happened to be watching. Whatever testing format is employed by the course you choose, you'll probably be just fine.
The decision to select a course with or without a final exam comes down to how you plan to take the course and the type of person you are. If you are taking the course in person, the decision has been made for you—you'll be taking a final. But, since you will have just spent approximately five and a half hours immersed in the glory of defensive driving, that final will be a snap.

If you are taking a course online, how are you planning on completing it? One of the biggest advantages of an online course is the ability to complete it at your leisure. As the brain can only absorb as much as the backside can endure, being able to "go out and play" from time to time may make you a candidate for unit quizzes. Most courts provide a 90-day window in which to complete a driver safety course. Even if you're not like me (by which I mean a big-time procrastinator), life happens. It could be a long time between the first lesson and the final exam.

Finally, if a negative test day experience from your school days causes your chest to tighten at the mention of the words "comprehensive final," by all means, choose the course with unit quizzes. This is true even if you are the type who is really into driving technique and motoring minutia. But, then again, if you are that type, what are you doing in defensive driving?

[wptb id="3003" not found ]
---
Got more questions? Head back over to our FAQ Page.
---
John Fabel
I have a long and checkered history with defensive driving. I took my first "court invited" course at age 15 and realized immediately that there had to be a better way. Since that first experience, I have gone on to teach defensive driving classroom courses and to author four internet courses in 2 states. After nearly 25 years in the industry, I can help you find a course that will be the best fit for you.